Shakespeare's Coming Home: A Reading of Shakespeare's Complete Works
Date/Time: 1 March 2022 - 12 March 2022 -12:00 pm - 12:00 am
Location: Town Hall Ballroom Click here for the map
This event, which will take place in the Ballroom of the Stratford-Upon-Avon Town Hall from 1st – 12th March, is to raise money to restore the statue of Shakespeare, which was given by David Garrick in 1769.
Please come and take your part in this reading of the Complete Works, or join the audience, or make a donation. Sign-up to read or to attend the works of your choice via www.ticketsource.co.uk/shakespeares-coming-home 
Special guest-stars include: Andrew French, Scott Handy, Robert Lister, Dame Janet Suzman, David Troughton and his family, and Dame Harriet Walter.
Stratford-Upon-Avon's internationally famous jeweller, George Pragnell Ltd., has made the Pragnell Pledge to the People of Stratford and will match-fund what is raised up to half of the target of £45,000.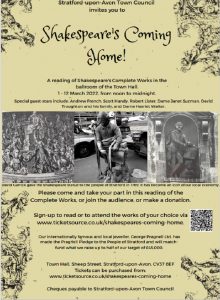 A PDF copy of the poster is also available.
** The BSA has contributed to sponsorship of this event. Our sponsorship entitles each member of the BSA to attend as audience or readers on 5th – 6th March 2022, led by BSA Honorary Fellows Dame Janet Suzman and Dame Harriet Walter. For details of how BSA members should register, please see here. **
Location Map
Map Unavailable