A Remarkable Richard III by BSA Honorary Fellow Adjoa Andoh
14th April 2023
---
Adjoa Andoh, Honorary Fellow of the BSA, directs and stars in a Richard IIII that remains true to the text but radically transforms our understandings of it. Andoh's exciting production (Liverpool Playhouse until 22 April and the Rose Theatre Kingston 26 April-13 May) explores what happens 'when the one punched down upon punches up'. The result is far from being a loud, angry protest. Andoh's production uses a surprisingly sunny, rural setting to take us deep in into the tragic effects of prejudice, abuse, and neglect, primarily for Richard, but also for society.


By casting and playing Richard as the only person of another race in a white English rural environment, Andoh's interpretation is deeply personal. As a child, she 'felt a kinship' with Richard 'through some of my own experience of being judged by what I looked like' in the Cotswolds where she grew up. The setting (designed by Aemelia Jane Hankin) recreated those memories: a rural idyll, visually dominated by a huge tree trunk. It was lit (by Chris Davey) in warm gold, and haunted by folk melodies composed by Andoh's brother Yeofi Andoh,
All is not as it seems in the Cotswold idyll. A troop of white-masked morris dancers chanting in celebration of 'this glorious summer' forcibly deck Andoh's Richard with a boar's head and bind him to the maypole with their ribbons. Carnival festivity blurs frighteningly with the violence of Klu-Klux-Klan white supremacy in this prologue which physically recreates Richard's nightmare of being trapped in a thorny wood from Henry VI Part 3 (3.2.173-181).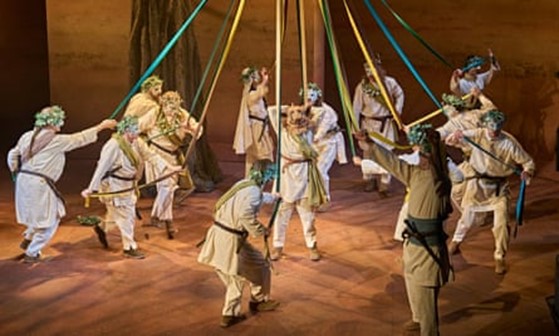 'Glorious summer' May Morris Prologue to Richard III. Photograph by Manuel Harlan.
For Andoh's Richard,'Not knowing how to find the open air / But toiling desperately to find it out,' it's not surprising he turns to 'hew my way out with a bloody axe.' (3 Henry VI 3.2.181) Executions are excised from the summer stage, but their violence is played out in ominous shadow-work behind curving translucent screens at the back of the stage (sometimes resembling the Globe structure). The physical force in Cotswold Morris stick dances could have been brought out more fully in the final battle scenes.
Andoh takes a brave risk in not milking the comedy of Richard's villainy, an easy point of contact with the audience. Instead, she shifts brilliantly between two styles to show Richard's complexity. One the one hand, Richard's sense of fun and companionship in plotting has the passionate quality of child revenging the sense of 'that's not fair', especially when shared with his supporters Buckingham (Joseph Kloska), Catesby (Harry Clarke) and Ratcliffe (Antonie Azor) in their hilarious pantomime of mock-piety to the bemused Mayor (Oliver Ryan). At other points, Richard's desire to be accepted by others creates surprising, new effects. The wooing of Anne (Phoebe Shepherd), for example, is poignantly played as a moment of acceptance, a spotlit romance – of what could have been, or what could be – as they tenderly connect hands beneath the tree. Numerous physical gestures showed Richard's sensitivity to the dehumanizing insults in the text, creating a tangible sense of injury – literally so with the addition of his mother's disgust at touching his head when he asked the Duchess of York (Caroline Parker) for her blessing.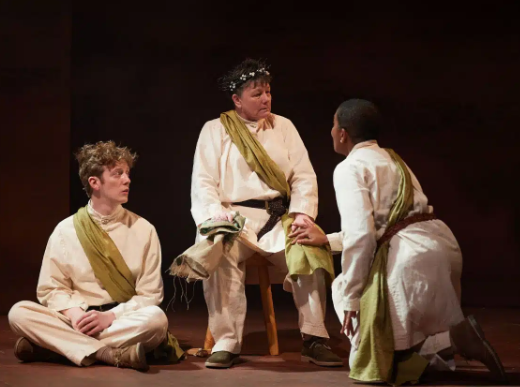 Richard (Adjoa Andoh) kneels for his mother's blessing. Duchess of York (Caroline Parker), watched by Clarence's son (Joshua Day). Photograph by Manuel Harlan.
Andoh makes lines like 'E're you were Queen' (to Elizabeth) 'I was a pack-horse in his [Edward's] great affairs' stand out as a bitter recognition of Richard's lack of self-worth, as well as his jealousy of Elizabeth. Height differences between Adjoa Andoh and the taller white cast members emphasize their dominance. Sam Cox's commanding portrayal of Stanley provided a sympathetic anchor of reason amidst the factions. Fine performances make Rivers (Robin Morrisey), Dorset (Joshua Day), and Queen Elizabeth (Rachel Sanders) more strikingly powerful stage presences than usual.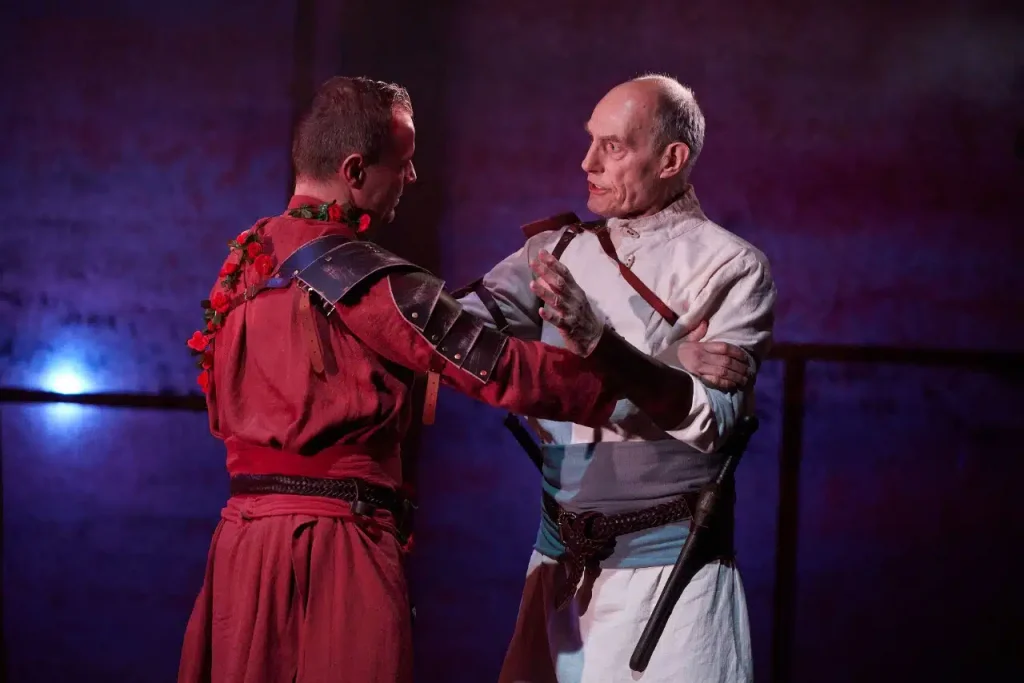 Richmond (Daniel Hawksford) and Stanley (Sam Cox) photograph by Manuel Harlan.
Fine performances make Rivers (Robin Morrisey), Dorset (Joshua Day) and Queen Elizabeth (Rachel Sanders) more strikingly powerful stage presences than usual. Queen Margaret (Liz Kettle) towers above, claiming 'the benefit of seignory' in grief (4.4.33); the lightning and music which accompany her curses lends her an unworldly resonance as the voice of history.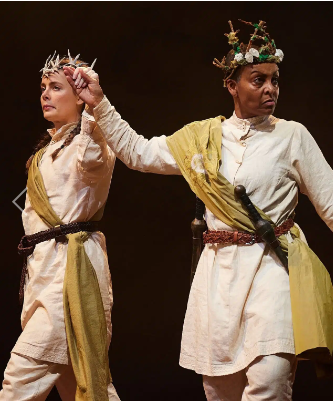 Anne (Phoebe Shepherd) and Richard (Adjoa Andoh) as Carnival King and Queen. Photograph by Manuel Harlan.
The transcience of power which she embodies is also cleverly marked in the use of the costumes (by Maybelle Laye): the crowns of bone, or woodland greenery are those of carnival kings and queens, for a day or a season, rather than forever. The brown mudcloth (the traditional home-made cloth of rural people across Africa) covering Henry VI's corpse reappears as Clarence's shawl and King Edward's robe, and no one sits for long on shallow seat in the tree trunk which serves as throne. Daniel Hawksford skilfully doubles an insecure Edward IV (by turns, shakily ritualistic and savage to Richard) with a confident Richmond.
Despite the communal feel created by the rural design (including real strawberries from the Cardinal), the consequences of prejudice and fear isolate many of the characters. The suffering of each is given full weight in some excellent cameo moments. Oliver Ryan made Clarence's nightmare of drowning spine-chillingly immediate, for example.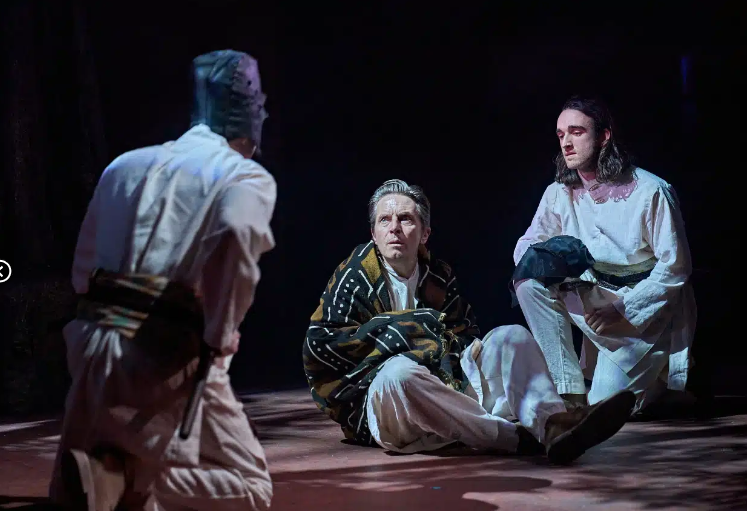 Clarence (Oliver Ryan) wakes from his nightmare only to be drowned in malmsey by Catesby and Ratcliffe. Photograph by Manuel Harlan.
Joshua Day's lament as Clarence's son – a lone figure clutching a toy horse – movingly demonstrated the victimization of children who are forced to carry political and emotional burdens in an adult world (telegraphed again through the ultra-white puppet representing the Duke of York and humped on the back of the Prince of Wales).
Although it could be argued that such 'spotlit' moments fragment the play, that is surely the point. Everyone, whether perpetrator or victim, suffers in a climate that promotes prejudice and fear. What brings the company together is universally excellent verse speaking using Cotswold accents. The range of voices allows Shakespeare's language to sing out, uncluttered by elaborate sets or costumes, in this thought-provoking and inspiring production. Congratulations to Adjoa and to all the company.
Buckingham (Joseph Kloska), Richard (Adjoa Andoh) and Queen Margaret (Liz Kettle). Photograph by Manuel Harlan.
Alison Findlay
University of Lancaster