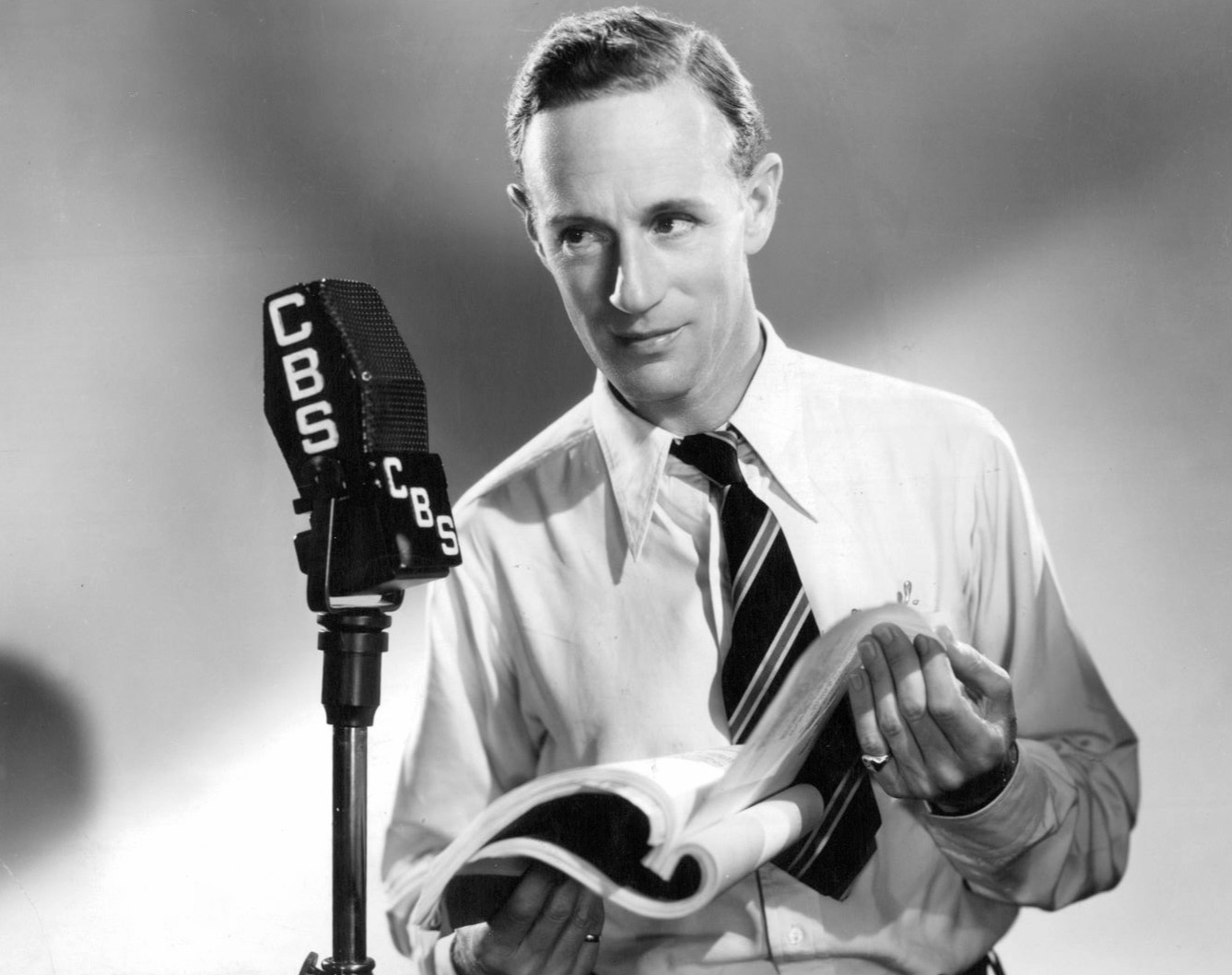 Andrea Smith: Radio Productions of Shakespeare's Plays
4th February 2022
BSA member Andrea Smith offers a fascinating glimpse into her doctoral research project on radio productions of Shakespeare's plays.
For most people, getting their fix of Shakespeare during the pandemic has meant turning to online platforms and recordings of stage productions while our theatres have been closed for long periods over the last two years. But I've had a different lockdown project. Listening to the 150 or so performances of Shakespeare's plays held in the archives of BBC radio. And it's been an extraordinary listen.
The very first production, Twelfth Night, aired just six months after the BBC began, in May 1923. Back then, they didn't have the facility to record their plays, so everything was live and nothing but memories remain. But it turns out there are a lot of those. Using newspaper reports and personal memoirs it's possible to piece together a pretty good idea of what it sounded like. Until now, people have generally underestimated the aims and abilities of our early broadcasters in terms of drama. But the production had a specially adapted script, professional actors and music played on a harpsichord. This was no cobbled-together, am-dram production but a serious attempt at producing a two-hour Shakespeare play in audio only. In a full-page article about the broadcast, no less a person than Dame May Whitty described it as 'exceedingly well done', bringing a 'sense of colour and atmosphere' to listeners.
Between this point and the start of the BBC's audio archive of these plays there were around 150 more productions, many of which are well documented by critics, producers and listeners, although not always that well by the BBC itself. Many scripts remain (there's a great selection from the 1930s and 1940s at the Shakespeare Memorial Library in the Library of Birmingham), and there is the odd audio clip, but we don't get a full archive production until 1944 and As You Like It.
There's no obvious reason why this production was chosen as the first to be kept for posterity, except perhaps its stars: Edith Evans and Michael Redgrave. It's also near full-text – just seven lines are cut. But it doesn't really show the radio drama department's capabilities at its best. While back in 1923 efforts were made to adapt the script to make it intelligible to those who didn't know the plot, mainly through descriptive narration, the audience were largely left to work it out for themselves here. This is probably because the credited adaptor, Herbert Farjeon, was a Shakespeare purist. He'd had a long-standing row with the BBC about how they should present the playwright, and while the head of radio drama, Val Gielgud, had insisted that the plays should be edited in the cause of 'practical entertainment value', Farjeon believed that they needed to be largely uncut. In this production he got his way.
There was also a world of difference between Evans' and Redgrave's performances. Evans was very theatrical: you can imagine her standing at the front of a stage, declaiming her lines to a massive auditorium. Whereas Redgrave was very much giving a microphone performance: relatively quiet, intimate, subtle. Producers had already recognised that this style frequently worked best on radio, but it was decades before it would be consistently adopted, with many producers still choosing to cast theatre stars in their productions, some of whom seem to have struggled to adapt to the new medium.
The audio archive is patchy from the 1940s to the 1960s, although you can still hear Donald Wolfit's King Lear (surprisingly affecting), Twelfth Night with Jimmy Edwards and Beryl Reid as Sir Toby and Maria (Edwards is wonderfully malevolent), and an extract of Judi Dench as the female protagonist in a schools' production of Romeo and Juliet. But the best known production from this era is John Gielgud's Hamlet from 1948. It was his third radio performance in the role (the previous one, in 1940, overran and was cut off before most of the characters had died!) and was later hailed by one critic as 'The best Hamlet of our time'. Anyone familiar with Gielgud's performances will recognise his speed of delivery, verbal dexterity and slightly mannered tone, but they may also enjoy his occasional spontaneity here, such as the stifled laugh when Esmé Percy, playing Osric, ad-libs on his exit. (Although this production was recorded there was virtually no facility for editing, which means productions of this era often feel as if they were live).
Of course, 1948 was also the year of Olivier's film of the play. Maybe that's why the BBC chose to present Hamlet that Christmas (for nearly four-and-a-half hours on Boxing Night, including two intervals, with a repeat on New Year's Eve). But even if that wasn't the motivation behind it, the recording is a great opportunity to compare two of the most famous actors of their generation in probably their most famous roles. I do enjoy Olivier's film (I think it was the first Shakespeare I ever saw) but I must admit to equally delight in Gielgud's radio performance. Both are very much products of their time, but none the worse for that.
As we head into the 1970s, the BBC's archive is near-complete. One of the missing plays – 1971's Macbeth with Joss Ackland and Googie Withers – came to light at the end of 2021 in a private recording held at the British Library. Sitting in one of their little booths, listening to it, was thrilling. I was probably the first person, other than the man who made the recording, who'd heard it in 50 years. It also includes 'what may well be the missing scene', according to The Listener, taken from William Davenant's Restoration adaptation of the play in which Macbeth tells Seyton: 'The enemy's upon our borders. Scotland's in danger' and goes on to talk about the 'indisposition' of his wife. Why producer Raymond Raikes decided to insert it, I'm not really sure, although there is a bit of a history of producers slipping bits of other Early Modern plays into their productions. The 1988 Taming of the Shrew includes scenes from The Taming of A Shrew, for example. (In radio, producers are usually also directors and frequently adaptors when it comes to Shakespeare's plays).
Eventually, in my largely chronological trawl through the archive, I arrived at the twenty-first century, and productions I already knew and loved. Pericles (2017) starring Paapa Essiedu as the title character and Willard White as a very charismatic Gower. The joyous 2015 As You Like It, with Pippa Nixon and Luke Norris as Rosalind and Orlando (Nixon is a very far cry from Evans' performance 70 years earlier). And the wonderful serialised productions of Hamlet (2014) and Julius Caesar (2016), produced by Marc Beeby for Radio 4. Marc sadly died at the end of 2020 and is a great loss to the field. He was also responsible for a cracking Coriolanus (2019) and a wonderfully internalised Macbeth (2015), starring Neil Dudgeon. If you want to get inside Macbeth's head, this is a great production to listen to.
Much of the BBC archive is available via Learning on Screen's Box of Broadcasts website, although some of the earliest recordings are still only held by the 'Beeb' themselves. And if you don't have access to BoB, then you'll find quite a few of the recent plays available for free via the BBC website if you search for them. I'd recommend you seek them out (okay, I'm biased!). I can't promise you'll love them all (you won't – whoever loved every theatre production they ever saw?) but I can promise you'll find new interpretations you won't have heard before and some great performances that you won't find anywhere else.
Andrea Smith
Postgraduate Researcher (University of East Anglia); Lecturer (University of Suffolk)
To read more about Andrea's research, please visit her departmental page. Andrea tweets @AndreaUEA
Header image: Leslie Howard, who starred in CBS's radio Much Ado About Nothing in 1937 and the BBC's radio Hamlet (1938). Image credit: Wikimedia.