'Bardolph's Box' Blog – 'It looked like TV but better'
1st June 2016
This is a guest blog post from Nicola Pollard, a member of the touring Bardolph's Box production, sponsored by the BSA (http://www.uptheroadtheatre.co.uk/bardolphs-box/).
---
Some might say there is no greater praise from a child for a performance in this day and age than 'It looked like TV but better'. Perhaps the fact it was live in front of them, and the fact that they could engage directly with the actors made it better. Or the colourful set and the magnificent Box, all there in front of them, within touching distance in many cases.
In this second blog about our touring production 'Bardolph's Box', generously supported by the BSA, I'd like to share some feedback from our audiences. Thanks to the marvellous Catherine Rose we have terrific insights from both children and their teachers. Having toured with the production I could see the children enjoying the performance (and those that weren't), nonetheless statistics such as 'Over 90% of children surveyed really enjoyed or enjoyed the performance' are highly satisfactory to read. Some of their own comments are interesting too, with one child commenting they felt 'discombobulated' by the experience, another was 'overjoyed' and another was 'annoyed' – I think this might have been at the open ending, our critics were divided!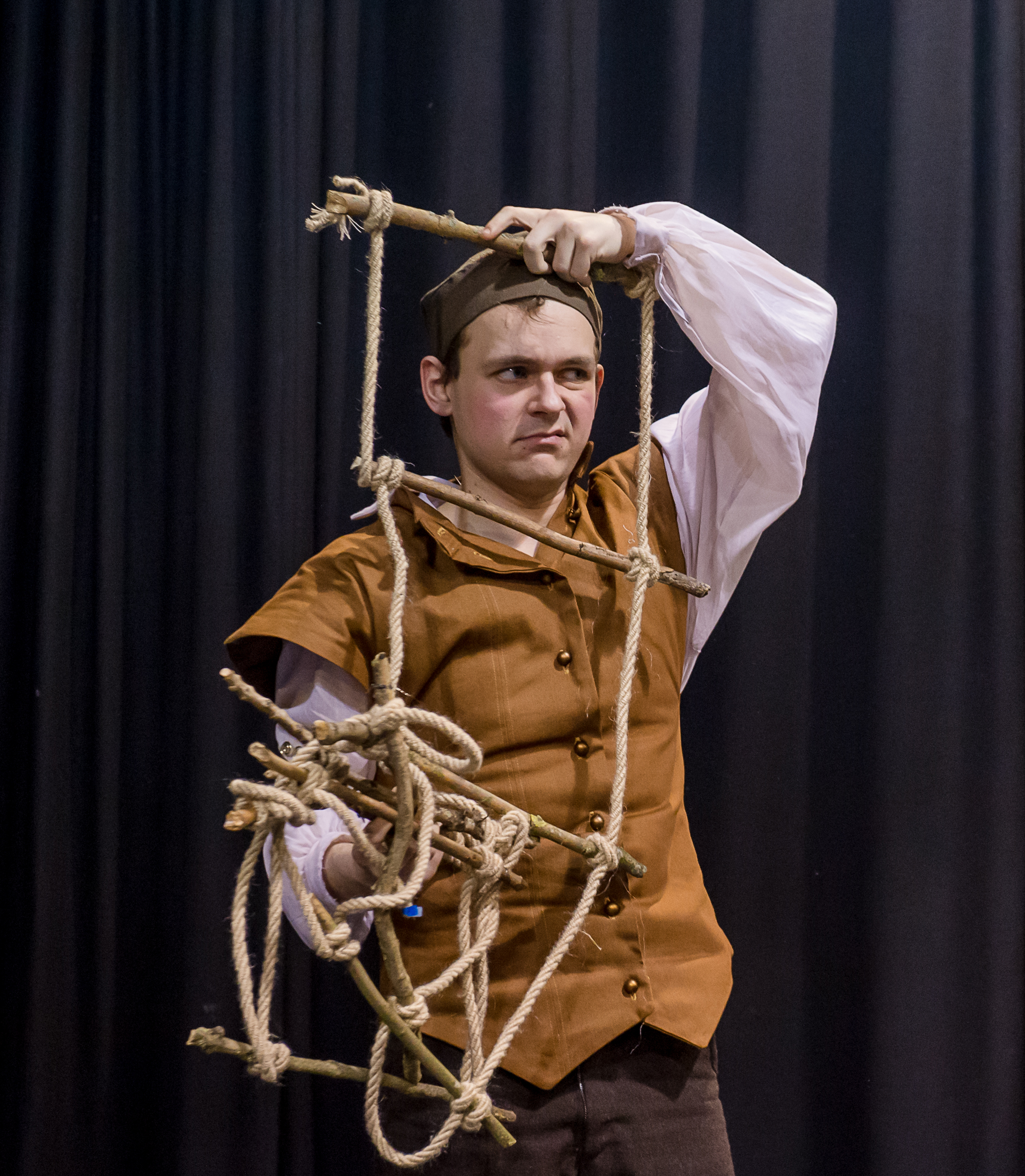 Children also reported that they liked the fact it was funny, that it was easy to understand and the actors were confident. It is fascinating what the young audiences picked up, and how their opinions vary. Some said they didn't know any Shakespeare plays so they didn't enjoy the production, others seemed to acknowledge that not knowing the plays was part of the fun. There were certainly moments when children were pleased they recognised characters, largely Macbeth's witches or Puck. One child told me he didn't understand why Cleopatra was in the play, and looked utterly unconvinced when he discovered Shakespeare had written a play about her.
It is always gratifying when your work goes down well, even more so for 'Bardolph's Box', it being our first production. I'm pleased to report that teachers enjoyed and appreciated the experience, with 100% saying the show had high production values, and all of those surveyed saying they would be 'very' or 'quite likely' to book a performance by Up The Road or Unity Theatre in the future. Our resource pack, Bardolph's Toolbox, has also gone down very well, with a number of teachers describing how they plan to further engage their pupils with Shakespeare. I hope they do because I believe if we can get young people on Shakespeare's side at this early stage, studying the plays later could prove a much smoother ride.
Finally I would like to highlight one of the most valuable comments from all the feedback, from one of our teachers: "'Bardolph's Box' reminded me of the importance of stagecraft to bring his stories to life". Absolutely. Let's keep persevering to remind more people of this, and bringing educators, practitioners and pupils together to experience this stagecraft for themselves.