MUSE OF FIRE Competition
9th October 2015
Members of the BSA are invited to participate in the following competition, a collaboration between the association and Illuminations.
---
WIN A LIMITED EDITION DVD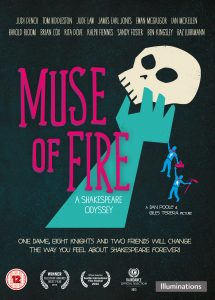 OF MUSE OF FIRE SIGNED BY JUDI DENCH AND IAN MCKELLEN
"An epic road-trip buddy movie, that aims to dispel the fear and myths surrounding the most famous playwright in history. One dame, eight knights and two friends will change the way you feel about Shakespeare forever!"
This is the premise of the MUSE OF FIRE film, released on DVD on 6th October.  Actors (and debut filmmakers) Giles Terera and Dan Poole embark on an exciting journey via Denmark, Hollywood, London's Globe theatre, a prison in Berlin and Shakespeare's home in Stratford-upon-Avon, to find out just what it is that makes us love – or loathe – the Bard. A host of Shakespearean stage luminaries including Ian McKellen, Judi Dench, Derek Jacobi, Mark Rylance, Tom Hiddleston, Baz Luhrmann, Jude Law, and Ewan McGregor speak openly about their early experiences, showing us how Shakespeare can be incredible fun.
You can watch a trailer of the film here:
MUSE OF FIRE- FILM TRAILER from Timebomb Pictures on Vimeo
Illuminations Media are kindly offering three prize packs to members of the BSA:
a limited edition MUSE OF FIRE DVD, signed by Judi Dench and Ian McKellen
a mix of Illuminations' other DVDs, including a 'normal' MUSE OF FIRE DVD
a mix of Nick Hern Books
Members of the BSA will have received an email with details on how to take part in the competition. If you have not received this message, please contact the membership secretary, Peter Kirwan (Peter.Kirwan@nottingham.ac.uk).