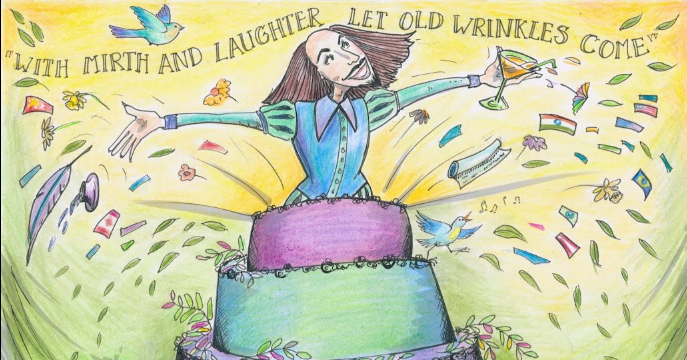 Shakespeare's Birthday Events
7th April 2021
In celebration of Shakespeare's birthday on Friday 23rd April, there is a veritable feast of events as detailed below:
12.30-14.00 'Theatre in Time of Plague' (12:30-14:00) A lunchtime celebration of William Shakespeare's 457th birthday an online discussion with theatre practitioners (James Wallace and Iqbal Khan) and theatre historians (Lucy Munro and James Shapiro). You need to register in advance by clicking here. For further information please email eventsoffice@dmu.ac.uk
14.00-16.00 Willow Globe's Birthday Bash, can be accessed here.   
16.00-17.00 The Shakespeare Birthday Lecture at which Professor Lena Cowen Orlin will share her exciting research about the depiction of Shakespeare on the funerary monument in Holy Trinity Church. The lecture will be online and tickets £5.00 can be booked here.

18.00-21.00 Globe 4 Globe climate change. Our Trustees, Sue Best and Phil Bowen are taking part in the introduction to this free online conference, which continues on Saturday 10.30-19.00.