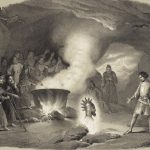 Call for Submissions: Global Macbeth
23rd March 2023
Global Macbeth
This collection of essays seeks to explore the many exciting new directions surrounding the scholarship concerning Macbeth. Long associated with the Gunpowder Plot of 1605, Macbeth continues to fascinate multifarious cultures around the globe. Macbeth's weird witches and fantastic apparitions are inescapable whenever one watches this play. This particular collection is especially interested in abstracts that concern film, stage, and scholarly treatments of the play in Eastern European countries, Russia and Ukraine, China, Japan, India, Africa, and South America. Possible topics for papers may include the following, but are by no means delimited by them:
Productions of Macbeth, Past and Present on Stage
Films, Adaptations, and Appropriations of Macbeth in the Global Arena
Issues of National Identity, Race, and Ethnicity in Macbeth
The meanings and representations of the Witches in Macbeth
The Problematics of Pedagogy, Macbeth, and the Undergraduate Classroom
Homosociality and Queer Affiliations in Macbeth
The Cultural Function of Witchcraft and Fortune Telling in Macbeth
The Green World: Macbeth and Eco-criticism
The Digital, Textual, and Editorial History of Macbeth
Please submit a 500 word abstract by November 1, 2023 to Sandra Clark and W. Reginald Rampone, Jr.