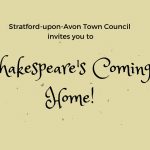 Attendance at 'Readings of Shakespeare with Honorary Fellows' Free for BSA Members (5th and 6th March, Stratford-Upon-Avon)
17th February 2022
The BSA has contributed to sponsorship of a community-based reading of Shakespeare's complete works from in the ballroom of the Town Hall, Stratford-upon-Avon.
The event, 'Shakespeare's Coming Home' which runs from 1st to 12th March 2022 is to raise money to restore the statue of Shakespeare given by David Garrick in 1769. A full programme for all the days of the event and information about participation for non-BSA members can be found here.
Our sponsorship entitles each member of the BSA to attend as audience or readers on 5th to 6th March 2022, led by BSA Honorary Fellows
Dame Harriet Walter.and Dame Janet Suzman. Please see the details below.
Each BSA member is also entitled to bring a guest. To attend, simply send your name (and that of your guest if appropriate) and your contact details to the organiser, Paul Edmondson by email paul.edmonson@shakespeare.org.uk.
If you wish to participate as a reader please indicate to Paul which play readings(s) you would like to participate in as a general reader.
Further Details Programme for Weekend of Saturday 5th and Sunday 6th March from 11.30am to 11.00pm:
Saturday 5 March
11.00am to 2.00pm King John. Led by The Stratford Society.
3.00pm to 6.00pm As You Like It. Led by Dame Harriet Walter as Rosalind and Guy Paul as Orlando.
7.30pm to 11.00pm Measure for Measure. Led by The Reading Early Modern Plays group.
Sunday 6 March
11.00pm to 2.00pm Timon of Athens.
2.30pm to 6.00pm Antony and Cleopatra. Led by Dame Janet Suzman as Cleopatra. John Heffernan as Caesar. Andrew French as Antony.
7.00-11.00 pm Coriolanus