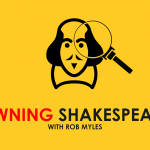 Robert Myles: Owning Shakespeare, The Podcast
20th July 2022
Robert Myles is an actor, writer and director, known for The Show Must Go Online, The Shakespeare Deck, and the new podcast, Owning Shakespeare. He has acted in over 30 Shakespearean roles and has directed all 36 First Folio plays before age 36. His book on formal innovation in digital theatre with Valerie Clayman Pye is forthcoming with Routledge in 2023.
---
After completing the First Folio series of The Show Must Go Online, there was a great deal for me to unpack and reflect on. That process is still ongoing.
One aspect that seemed so valuable was TSMGO's role in empowering people to tackle Shakespeare out loud. The open access it gave people in the rehearsal room, drawn from all walks of life, to a get a window into the process and choices of industry veterans was invaluable.
These plays were produced at breakneck speed, and consequently we were unable to delve as deeply into the text as we might wish. This, it seems, is a common complaint of actors with a love of Shakespeare's text; the complexity and density of opportunity the text presents are rarely able to be mined in full under the practical and commercial pressures of modern theatre.
To address that in my 6-week intensive online training course, there is a point at which I ask participants to unpick Enobarbus' speech "The Barge she sat in, like a Burnisht throne" from Antony and Cleopatra. We frequently spend over an hour, as a group, identifying the opportunities in just six lines and a half of text – the varying effect of metaphor and simile on the listener, the choice of imagery by the speaker and its associations for those on stage and off, the pop and crackle of rhythmic variations. The desire is there, as is the potential – the challenge is always creating the time and focus to unravel all that we could take advantage of.
Owning Shakespeare, The Podcast is my attempt to answer this challenge. To create the time to take a deep dive into a single Shakespeare speech, and to enlist the help of a veteran of the craft. I want to understand their personal approach, and in the process, get a greater grasp of preparing 400-year-old text for contemporary performance through peer-to-peer exchanges.
The show offers a first read of the actor's chosen text, followed by a free-flowing discussion around their methods and interests, culminating in a performance that seeks to put into action some of the discoveries made.
The aim is to make the doing of Shakespeare more accessible to all. Performance has been an oral tradition for most of its history, and we continue that tradition here: whoever has the eagerness to listen can benefit from the wisdom of those who have an extraordinary facility for breathing life into the words.
Every episode comes with a link to an annotated Google Doc in the description, enabling listeners to read along and see the discoveries made in relation to the episode on the page.
Season One has now been recorded, with six incredible guests tackling six varied and fascinating speeches:
Isabel Adomakoh Young (Queer theatremaker and Black British Theatre Award winner for her Juliet at Regents Park Open Air Theatre) – Cleopatra (Antony & Cleopatra, 1.5) "O Charmian, Where think'st thou he is now?"
Paterson Joseph (Star of Peep Show, Noughts & Crosses and Brutus in the RSC's Julius Caesar): Shylock (The Merchant of Venice, 1.3) "Signor Antonio, many a time and oft"
Austin Tichenor (Co-Artistic Director of the Reduced Shakespeare Company, actor, director, writer, author and educator)– Henry IV (Henry IV Part I, 3.2) "For all the world"
Miguel Perez (Former US Marine and veteran of stage and screen, who has acted alongside Mark Rylance in Hamlet and Sir Patrick Stewart in The Tempest) – Nurse (Romeo & Juliet, 1.3) "Even or odd, of all days in the year"
Debra Ann Byrd (Artistic Director of Southwest Shakespeare Festival and multi-award-winning writer-performer of Becoming Othello: A Black Girl's Journey) – Richard III (Richard III, 4.4) "Look what is done cannot be now amended"
Adjoa Andoh (Lady Danbury in Netflix smash Bridgerton, BSA Honorary Fellow, and veteran of the Globe and RSC) – York (Henry VI Part III, 1.3) "She-wolf of France, but worse than wolves of France"
Each speech throws up its own challenges, peculiarities and discoveries, and each actor approaches the process uniquely. Across the recording of the episodes, I was thrilled to discover a healthy amount of both similarities and differences. The similarities proved that there are common things we can all do to quickly get to grips with Shakespeare, while the differences leapt out as especially valuable pearls of wisdom: "Shakespeare's Inky Finger" "Look for the Cousins" "Cut it!" and "Chosen Words" all leap back fresh in my memory.
Where The Show Must Go Online took on Shakespeare at breakneck speed, creating a full-cast performance of a play in just two and a half days, Owning Shakespeare takes in a single speech very slowly with a single actor, to allow us to marinade in the thrill of discovery, and benefit from what is once again an oral tradition.
When teaching Shakespeare, I frame this process as though we are pirates, raiding the treasure house of tradition. If a jewel gleams in just that certain way you like, add it to your lapel. Unlike silver and gold, however, knowledge shared is twice blest, it blesseth those that give and those that take (to echo The Merchant of Venice).
I thank every guest for their willingness to share their time, talent and insight with the world. I hope you'll join us on these journeys of discovery over the next six weeks, and on into the future.
Robert Myles

Owning Shakespeare can be found on Spotify, Apple Podcasts, Amazon Music, Stitcher and more at this link: https://anchor.fm/owning-shakespeare/